This moment in time is perhaps the most exciting in the history of the automotive industry. Vehicles as we know them are being modernized and evolving into all-electric models that are better for the environment. Plus, they're more affordable to maintain and highly advanced in terms of technology and performance.
With all of these exciting advancements, consumers have very understandable questions ranging from the types of EVs on the market, to critical infrastructure and charging options and more. Chat with the experts at our Ford dealership near Chico to learn more about all-electric vehicles. We'll answer frequently asked questions and set you up with a test-drive and EV review!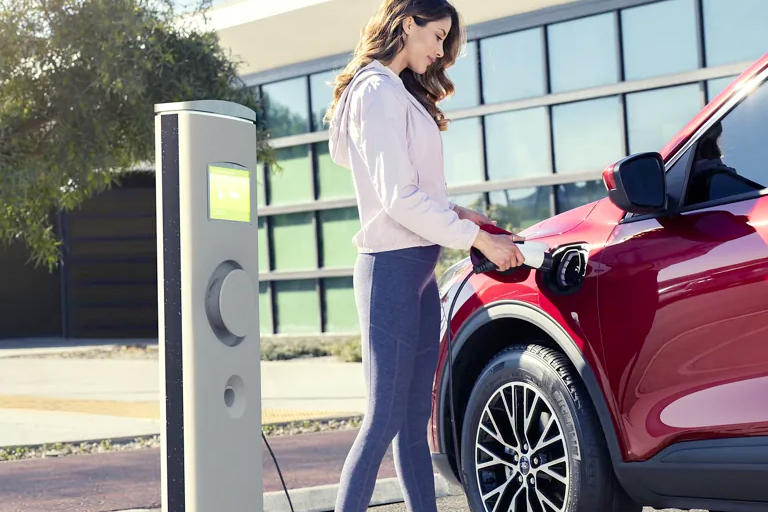 How Many EV Models Does Ford Have?
Ford has three all-electric vehicles, one plug-in hybrid, and four hybrid configurations in the lineup. If you want to buy an all-electric car for sale in California, consider a new Ford Mustang Mach-E or Ford F-150 Lightning truck. If you want to utilize a battery while enjoying gas as a fallback option, consider a 2023 Escape Plug-In Hybrid. Looking for a Ford hybrid in CA? Opt for the 2023 Ford Maverick pickup, Escape ST-Line Elite Hybrid, F-150 truck, or Explorer Limited SUV, all of which either come with standard or available hybrid configurations.
What Are the Different Types of EVs?
There are technically four types of electric vehicles that include: all electric vehicles (EVs), plug-in hybrids (PHEVs), hybrids (HEVs) and fuel cell vehicles. The three most common types of electric vehicles, however, are BEVs, PHEVs, and HEVs, as they can typically be found for sale in any state in the U.S.
Which Electric Vehicles Are Eligible for Tax Credits?
There are quite a few Ford electric vehicles that are eligible for EV tax credits, but be sure to chat with our local Ford sales associates as EV tax credit requirements and guidelines are often changing. Let us help you buy an EV that qualifies for the tax credit along with our own new Ford EV specials and incentives. Our Ford finance team has the industry know-how to help you navigate this process!
Where Can I Charge an Electric Car?
California has great infrastructure when it comes to EV charging options, as there are plenty of charging stations to choose from. You can also charge your electric vehicle conveniently at home! There are three types of EV chargers that range in charging time, efficiency and more. They include: Level 1, Level 2 and Level 3 chargers.
What Kind of Maintenance Do Electric Cars Need?
Electric vehicles generally require less maintenance than their gas counterparts, as there are less components that could break, and fewer fluids required. This means that EVs are typically cheaper to maintain in the long run. EVs do still need routine tire rotations, brake repairs and other maintenance not related to an internal-combustion engine. Chat with our Ford service center about EV service requirements or to schedule auto service.
Have more questions about how to buy an electric vehicle, the pros and cons of buying an EV or any other related query? Contact Hoblit Motors and we'll answer all of your questions and get you behind the wheel of a Ford EV for a test-drive!